This page is sponsored and paid for by Vintage Hammond Church Organs of Houston, TX & Atlanta, GA
Chapter XVIII - Hammond and the Organ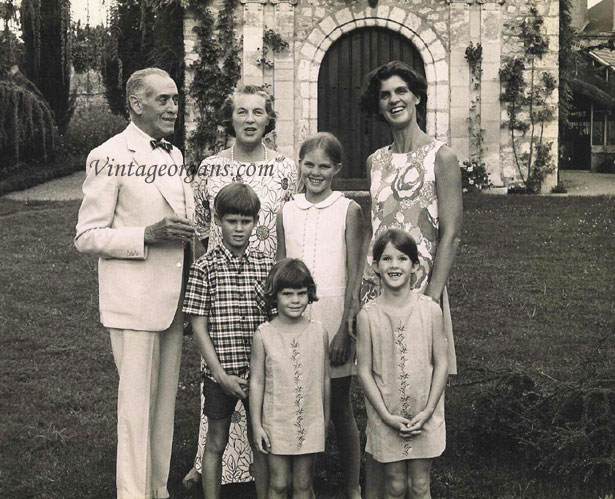 Laurens Hammond with his wife Roxana, Step Daughter Lisa Nicholson
and children at his house in France called Champremault at Meung-sur-Loire, 1970

Many, many years after he had persuaded a Cornell classmate to pay five dollars for his own hat, this classmate, by now an old friend, invited Hammond to dinner at the University Club at Milwaukee. A dealer who sold organs turned up, very excited to see Hammond, who saw he had quite a group of people with him. "Don't let me down- Don't let me down," the man implored. It seemed that this group had just installed a brand new pipe organ in their church- and wouldn't Mr. Hammond favor them by coming over tomorrow and playing for them?

"The difficulty is," said Hammond, "I'm very sorry, but my wife and I have engagements to meet and we have to leave at the crack of dawn tomorrow morning."

It didn't seem fair to let these trusting people know that the inventor of the Hammond organ couldn't play anything harder than Chopsticks.
The End
---
ęCopyright 1974, Stuyvesant Barry All Rights Reserved May not be copied, published, used on anyone else's web pages or in any way without express written permission.
---
Isn't it time you purchased the Hammond organ you've always wanted? The best place to find a classic Hammond organ for your home or church is Vintageorgans.com. Vintageorgans.com for quality pre-owned Hammond organs